Afghan Taliban kill suspected child kidnapper in Ghazni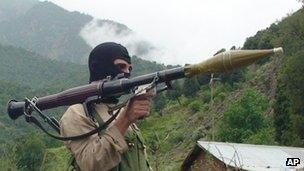 The Taliban in Afghanistan have shot dead a man accused of kidnapping a child from a village, tribal elders have told the BBC.
They said that the boy's father approached the militants for help after local authorities failed to act.
Witnesses said the Taliban were quick to surround the village in Ghazni province and get the boy released. The alleged kidnapper was shot dead later.
Correspondents say the Taliban's action is aimed at expanding their support.
An Afghan security official in Ghazni told the BBC that the Taliban initially wanted to carry out a public execution of the kidnapper but decided against it.
The man's body was found on the side of the road on Monday morning in Qarabagh district.
Tribal elders and villagers in the area said that the Taliban's speedy response to the kidnapping was in contrast to that of the government.
Although the authorities arrested one of the suspected kidnappers, they did nothing against the other, despite numerous complaints from the kidnapped boy's father.
"As soon as the Taliban's local council was informed, they ordered an operation and in a matter of an hour they had surrounded the village and announced through loudspeakers why they were there. They took the kidnapper out and shot him with an AK-47," a village elder told told the BBC.
Qarabagh district is about 40km (25 miles) south-east of Ghazni City on the strategically important Kandahar-Kabul highway.
Insurgents have a strong presence in rural areas of Ghazni province.