Australia asylum panel recommends offshore processing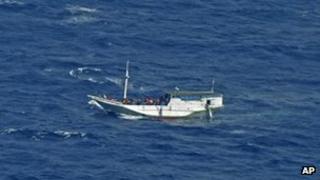 Australia should set up offshore processing centres for asylum seekers in Nauru and Papua New Guinea, and "pursue" a refugee agreement with Malaysia, a panel says.
The three-strong independent panel was appointed by PM Julia Gillard to break government deadlock on the issue.
Australia has seen an increase in the number of asylum-seekers arriving by boat in recent months.
At least 170 people arrived in three boats over the weekend, reports said.
The panel said its recommendations aimed to encourage people to seek asylum through official channels and reduce the number of illegal boat arrivals.
Implementation would cost A$1bn a year ($1.06bn, £674m), it added.
'Realistic not idealistic'
The two offshore facilities should be established ''as soon as possible'', the panel said, as part of a ''comprehensive regional network''.
The independent panel, led by former defence chief Angus Houston, set out 22 key recommendations in its report.
These include:
increasing Australia's humanitarian programme from 13,000 to 20,000 places a year, with consideration to go up to 27,000 in five years;
not allowing asylum seekers who arrive by boat to sponsor family members to come to Australia;
ramping up efforts to work with Indonesia on surveillance and search and rescue;
reviews of related laws, legislation, and a thorough review of determining refugee status.
"We recommend a policy approach that is hard-headed but not hard-hearted. That is realistic not idealistic,'' said Mr Houston, in a press statement.
Ms Gillard had been pushing for a compromise deal on the issue.
Her Labor Party backed a refugee swap deal with Malaysia, under which Australia would send 800 asylum-seekers who arrived by boat to Malaysia and receive 4,000 refugees in return over four years.
Last year a court ruled against such a move, saying Malaysia - which has not signed UN refugee conventions - did not offer adequate protection.
In its report, the panel called for the agreement to ''be built on further, rather than being discarded or neglected" and for ''safeguards and accountability'' to be strengthened.
The opposition, on the other hand, wants an immigration detention centre on Nauru to be reopened and for the navy to be able to turn back boats.
In its report, the panel noted that the ''conditions necessary'' to turn back boats in safe and lawful ways are ''currently not met'', but this ''could change in the future''.
Boats sunk
In June, Australia's parliament voted down an asylum bill after fierce debate was reignited by the sinking of two boats in one week off Christmas Island.
Parliament is due to reconvene this week.
"We'll be taking their recommendations very seriously because the Australian people have had a gutful of this and they want it sorted," Immigration Minister Chris Bowen told ABC Radio.
Asylum seekers often target Christmas Island, off Australia's northwest coast, to get to the country. They make the dangerous journey in boats that are usually overloaded and poorly maintained.
About 50 asylum-seekers died when their boat broke up on rocks off Christmas Island in December 2010.
Last Thursday, the Australian navy rescued more than 200 people from a boat in rough water - believed to be one of the largest number of arrivals in one boat.