Death toll in Philippines floods rises to 60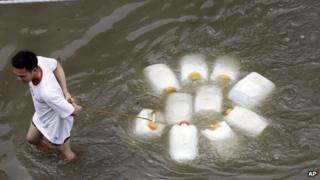 At least 60 people are now known to have died in the torrential rain and floods that paralysed the northern Philippines this week, the country's disaster agency has said.
The waters are now receding, but officials say it is still not safe for people to leave emergency shelters.
Officials say that many flood victims still need food, blankets and medicine.
More rain is expected in the coming days and a typhoon is expected to hit the country early next week.
The government's disaster management agency said that the estimate of those thought to have died had risen significantly since Thursday because extra fatalities had occurred in outlying areas and could not immediately be reported.
'Eyesore'
More than half of the capital, Manila, was submerged at the peak of the floods, with schools and offices closed for days.
But with the sun shining for a second day on Friday, many residents were hard at work fixing damaged homes and stores in flood-hit communities now confronted with huge mounds of mud-caked debris.
"It's really an eyesore when we saw it from the helicopter," civil defence chief Benito Ramos told the AP news agency.
"There will be no more rescues. It's now 'Operation Clean-up'."
The BBC's Kate McGeown in Manila says that hundreds of thousands of people in evacuation centres are hoping they can soon go back home, but officials are urging caution, with more bad weather expected.
Local people say that the floods, which began on Monday, were the worst to hit Manila since Tropical Storm Ketsana killed 464 people in 2009.
The rainfall has been so intense that rice fields were turned into an enormous inland ocean of brown water.