Eleven Afghan police defect to Taliban in Helmand province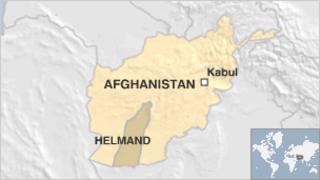 Eleven Afghan policemen have defected to the Taliban in the southern province of Helmand, officials say.
The men switched sides early on Monday in Musa Qala district, taking with them weapons and three motorcycles, a provincial spokesman told the BBC.
It is the second such defection in recent weeks - a police commander and 13 junior officers joined the Taliban in western Farah province in late July.
That was one of the biggest defections so far by the police.
It highlighted a major intelligence failure and was a propaganda boost for the insurgents, the BBC's Bilal Sarwary in Kabul said.
Local police commanders are key to security and stability in remote areas where deal-making is crucial to compensate for a weak Afghan government.
One Afghan intelligence official based in Helmand told our correspondent it appeared the insurgents had infiltrated the local police in Musa Qala some time ago.
A number of people who had vouched for the men who defected, including some tribal elders, are now being questioned, provincial spokesman Dawood Ahmadi told the BBC.
Local elders blamed the government, saying the men who defected had not been paid on time.
"You can't fight the Taliban if you can't feed your children. The local police were like sitting ducks. Their weapons are often not working," one told the BBC.