Bangladesh aid charity urges government ban lift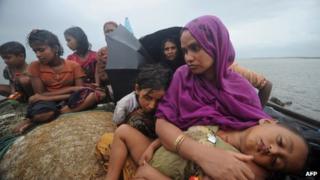 International charity MSF says tens of thousands of people in Bangladesh will go without critical healthcare if it is not allowed to work near a camp for Burmese Muslim Rohingya refugees.
Some 100,000 people, both Bangladeshis and Burmese Rohingya refugees, depend on MSF's services, the group says.
The charity runs a maternity care centre and supports malnourished children in a district bordering Burma.
The authorities earlier this week ordered three agencies to stop work.
The three aid agencies - Medecins Sans Frontieres (MSF), Action Against Hunger (ACF) and the UK-based agency Muslim Aid UK - were said to be operating beyond their mandate by giving aid to refugees who were in the country illegally.
MSF's health facility is located close to a Rohingya refugee camp.
"We have dozens of people in our in patient care. Seven women in the maternity unit and one of them is currently labouring. Where do they go it we have to close our activities?" MSF's Christopher Lockyear told the BBC.
The charities were providing healthcare, food and water to thousands of refugees and Bangladeshis in the Cox's Bazaar district in south-eastern Bangladesh.
Thousands have fled communal violence in Burma's Rakhine state since May.
Bangladesh recognises only 29,000 as refugees, whereas the total number of those who have crossed the border in the last three decades is estimated at 300,000.
Mr Lockyear has urged the Bangladeshi government to withdraw its decision to ban their services from Cox's Bazaar district.
"We would like to be able to open a dialogue and [see] how we can resolve the situation," Mr Lockyear said.
The MSF runs two other programmes in different parts of Bangladesh, which have been running without any problem.