O'Neill sworn in as Papua New Guinea leader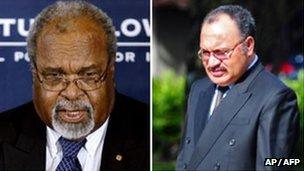 Papua New Guinea's parliament has elected Peter O'Neill prime minister, ending a drawn-out political stand-off in the country.
Mr O'Neill was elected by 94 votes to 12, after former leader and rival Sir Michael Somare agreed to support him.
Both men had claimed the position of prime minister in a leadership struggle that at one point saw a small number of military officials mutiny.
Mr O'Neill has now been sworn in as leader of the nation.
His election followed nationwide polls in June in which his People's National Congress won the largest number of seats.
Those polls came after a year of instability triggered by parliament's decision to declare the position of prime minister vacant after Mr Somare left the country to seek medical treatment.
Lawmakers elected Mr O'Neill leader, but the Supreme Court later ruled parliament's move illegal and reinstated Mr Somare.
This triggered a crisis that at one point led to parallel administrations claiming to run the country and a short-lived mutiny.
Last month, however, Mr Somare agreed to back Mr O'Neill in his bid to form the next government.
"It is important for our country that we provide a stable government," he said at the time.