Bangladesh orders charities to stop aid to Rohingyas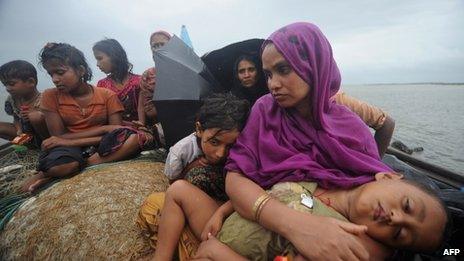 Three international aid agencies in Bangladesh have been told to stop providing aid to Muslim Rohingya refugees from neighbouring Burma.
Bangladeshi authorities say the agencies are operating beyond their mandate by giving aid to refugees who are in the country illegally.
Aid workers say an abrupt withdrawal of services will worsen humanitarian conditions in camps along the border.
Thousands have fled communal violence in Burma's Rakhine state since May.
The French aid agencies Doctors Without Borders and Action Against Hunger and the British agency Muslim Aid are those who have received the order.
The charities were providing health care, food and water to thousands of refugees in the Cox's Bazaar district of Bangladesh.
Bangladesh recognises only 29,000 as refugees, whereas the total number of those who have crossed the border is estimated at 300,000. Hundreds have been turned away at the border by Bangladeshi authorities.
A senior Bangladeshi official said the charities' actions in providing aid was encouraging more to cross the border illegally, reports the BBC's Anbarasan Ethirajan in Dhaka.
A state of emergency was declared in Rakhine in June after deadly clashes between Buddhists and Muslims.
Violence flared after the rape and murder of a Buddhist woman in May, followed by an attack on a bus carrying Muslims.
Communal unrest continued for weeks as Muslims and Buddhists engaged in attacks and reprisals, leaving many dead and forcing thousands of people on both sides to flee their homes.
There have been long-standing tensions between Rakhine people, who are Buddhist and make up the majority of the state's population, and Muslims, many of whom are Rohingya.
This week campaign group Human Rights Watch issued a report accusing Burmese government forces of failing to contain the initial unrest and themselves persecuting Muslims in Rakhine state, including incidents of rape and killing, as well as making hundreds of arrests.
Burma denies its security forces are guilty of human rights abuses in Rakhine.