Marmite reward for New Zealand's Olympic medallists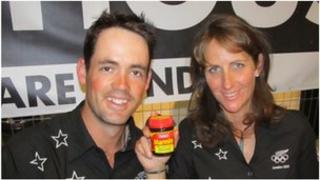 New Zealand competitors who win medals at the London Olympics have been offered an unusual reward - food parcels containing jars of Marmite.
The spread has been in short supply since March, after the manufacturer was forced to close its only factory because of earthquake damage.
The shortage of Marmite has been dubbed "Marmageddon" by the media.
Members of the eventing team, who won the country's first medal, were the first to collect their Marmite.
The manufacturer, Sanitarium, says production of the spread will not resume until later this year. The product is a variation of the yeast spread widely available in the UK.
Since the shortage began, New Zealand media has been filled with stories of newly discovered Marmite stashes in corners of supermarket storerooms.
There has also, apparently, been a roaring trade on auction websites.
Rather than selling its remaining supplies, executives at the Pak'nSave supermarket chain decided to give their stash to customers they felt were deserving of a treat.
"Who could be more deserving than our Olympic medallists," said Steve Anderson of the supermarket's parent company Foodstuffs New Zealand.
"To come to London and prove to the world that they are the best in their discipline is no mean feat. And we thought that a few home comforts after all their hard work wouldn't go astray."
The eventing team, who won a bronze medal on Tuesday, went to Kiwi House the following day to pick up their jars of Marmite.
The spread was first brought to New Zealand in the early 1900s, but the country later came up with its own recipe.