Meditation and chanting to boost confidence of Olympic athletes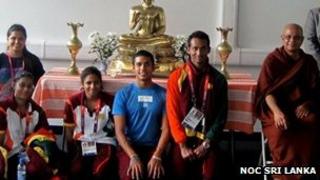 The monk in charge of the Buddhist shrine inside the Olympic Village says it is a privilege to look after the psychological well-being of more than 500 Buddhists in the Village.
It is, however, not only the Buddhists who seek his spiritual guidance, says the Most Ven Bogoda Seelawimala Thera.
As well as the athletes from Buddhist countries such as China, Thailand, Taiwan, Japan, Korea and Sri Lanka, there are others also who regularly visit the shrine.
"And there are non-Buddhists in the delegations of those Buddhist countries," he told BBC Sinhala service.
"When whoever comes to my shrine first of all I welcome them, and discuss whatever their problems are and then encourage them to do a little meditation which is helpful for them to balance their mind and relax their mind," the most senior Sri Lankan monk in the UK added.
"As they are under immense pressure sometimes they are stressed due to their competitions so following meditation technique I do a chanting to confer blessings to them. My aim is to give them strength in their search of Olympic medals."
The monk says he is delighted to be the only Buddhist monk in the Village having been picked by London 2012 after a lengthy selection process.
"I am very proud about that. As a monk this is a great opportunity for me being able to extend my religious services is a great privilege and opportunity for me. I am very fortunate," the monk said when asked about his selection ahead of many other Buddhist monks in UK from Thailand, China, Japan, Burma among others.
The 'unique event' of Olympics, says the Seelawimala Thera, has demonstrated to the world what the real Britishness is.
"It demonstrates the creativity, the imagination, the artistic talent, architecture and the power of engineering; when one goes there one can see what a wonderful creation the Olympic Park is," he said.
He added that a developing country such as Sri Lanka has "great lessons to learn" from the London 2012 Olympics.
Meanwhile, Sri Lanka team captain Niluka Karunaratne qualified for the badminton quarter-finals beating World No 8 ranked Japan's Kenichi Tago on Monday. It is the first ever Olympic success for the Indian Ocean island in a badminton event.
Sri Lanka's Thilini Jayasinghe and Heshan Unamboowe are already out of the competition.
Commenting on Niluka's success, fellow player Jasyasinghe told BBC Sinhala service that it is a great victory for the team as a whole at a time "everybody in Sri Lanka are only talking about cricket."
Christine Merrill, Mangala Samarakoon, Heshan Unamboowe, Anuradha Cooray and Reshika Udugampola are the other members of the Sri Lanka team.
Sri Lanka has only ever won two Olympic silver medals; Susanthika Jayasinghe's bronze for women's 200m in 2000 Sydney Olympics was later upgraded to silver after Marion Jones admitted taking drugs.
And at the last London Olympics n 1948, Duncan White won silver at men's 400m hurdles.