UN to assess North Korea floods as more rain falls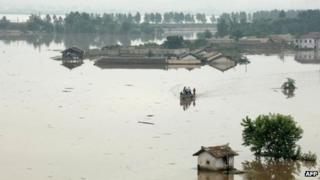 A UN team is to visit flood-hit parts of North Korea to assess damage, after dozens of people died in recent storms.
A rapid assessment team would visit the two worst-hit counties to see what help could be provided, a UN official said.
North Korea announced on Saturday that flooding had killed 88 people between 18-25 July and left more than 60,000 homeless.
State media said on Sunday that more heavy rain was expected, with many rivers and dams expected to flood.
In a statement, the UN said its teams would visit South Pyongan province and Kangwon province.
Images from Anju, in South Pyongan province, taken by state news agency KCNA showed houses underwater, flooded agricultural land and people sheltering in the upper stories of buildings.
Kim Kwang-dok, vice-chairman of the Anju City People's Committee, told the Associated Press news agency that the flooding was the worst in the city's history.
North Korea relies on food aid because it cannot grow enough food to feed its people. Famine in the mid-1990s is believed to have killed hundreds of thousands of people.