Vietnam bull which shut Hue airport dies after capture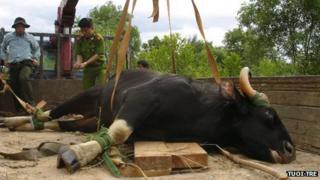 A wandering bull that forced the closure of a Vietnamese airport has died following its capture after being on the run for two days, officials say.
Authorities say that the roaming animal may have killed an elderly villager.
The bull was tranquilised on Tuesday afternoon and removed from Phu Bai Airport in the central city of Hue, local rangers said.
At least 12 flights to the tourist destination - Vietnam's ancient capital - were affected.
The bull's sudden appearance at the airport on Monday led to the deployment of about 100 police officers, soldiers and rangers to stop it from crossing onto the runway.
It took them four hours to corner and capture the animal using anaesthetic. It died later on Tuesday evening.
Chief Ranger Nguyen Viet Hoach denied that the bull died from a tranquiliser overdose.
Mr Hoach told the AP news agency that an autopsy showed that it had heart problems and stomach bleeding. He said that it was probably dehydrated and exhausted from roaming woodland that adjoins the airport.
Local village chief Nguyen Hai said that it was possible that the bull was responsible for the death of an 85-year-old woman who was found with severe facial wounds outside her home on Monday afternoon.
The bull was seen in the village and is suspected of attacking her.
Phu Bai Airport Director Do Chi Thanh said that the decision was taken to close the airport for most of Tuesday for safety reasons.
He said that bulls have not been seen before in the area and it is not clear where exactly the animal came from.
Correspondents say that bulls normally live in forests on higher ground rather than lowland areas like those which surround the airport.