Bangladesh writer Humayun Ahmed buried near Dhaka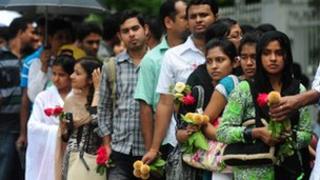 Popular Bangladeshi fiction writer Humayun Ahmed has been buried at his country house near the capital Dhaka.
Thousands of admirers lined up to bid an emotional farewell as his body was brought to Nuhash Palli in Gazipur district.
Mr Ahmed died of colon cancer at a New York hospital last week.
He was known for his depiction of the tribulations of ordinary middle-class Bangladeshi life.
Mourners, including relatives of the 64-year-old author, braved the rain to pay their last respects.
Earlier a funeral prayer meeting was held within the High Court premises in Dhaka.
On Monday thousands of people gathered in the city's Central Shaheed Minar monument to pay their last respects to Mr Ahmed after his body was flown back from the US.
The author and film maker's burial was delayed following a family feud over the location of his burial site.
It was finally resolved early on Tuesday after the intervention of Prime Minister Sheikh Hasina.
Mr Ahmed wrote more than 200 fiction and non-fiction books in easily understandable Bengali - nearly all of which were bestsellers in Bangladesh.
BBC Bengali editor Sabir Mustafa says that he was idolised by an entire generation of young men and women who grew up in the 1980s and 1990s.