Thousands flee rioting in Indian state of Assam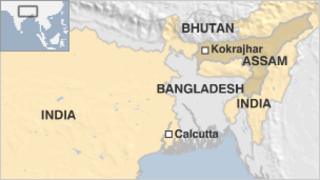 Tens of thousands of people have fled their homes in the Indian state of Assam following weekend clashes that killed at least 17 people, police say.
The fighting was between indigenous tribespeople and Muslim settlers in the state's Kokrajhar district.
There have been tensions between indigenous groups and Muslim Bengali migrants to Assam for many years.
An official in Kokrajhar district said about 50,000 villagers had fled homes in riot-hit areas for relief camps.
He told the Reuters news agency that 37 camps had been set up to help displaced people and more would be opened if needed.
Police say that the clashes began when unidentified men killed four youths on Friday night in Kokrajhar district, an area dominated by the Bodo tribe.
They say that armed Bodos attacked Muslims in retaliation, suspecting them to be behind the killings.
Soon afterwards unidentified groups set houses, schools, and vehicles ablaze, police said, firing indiscriminately from automatic weapons in populated areas.
The violence is reported to have spread to other areas, including nearby Chirang district.
Police told the AP news agency that they had discovered some bodies with machete wounds that had been left in the jungle or along roadsides or river banks.
"The situation is tense and more security forces are [being] sent to far flung areas," Assam's Inspector General of police SN Singh told reporters.
Businesses, offices and schools were closed on Monday, and streets were deserted.