Debate over Australia welfare 'credit card'
By Duncan Kennedy
BBC News, Sydney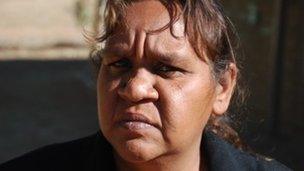 The Australian government is rolling out a radical new way of paying welfare benefits that may be instructive for other countries around the world.
Instead of being given cash or cheques, thousands of people are now issued with electronic "credit" cards.
The Basics cards, as they are called, can only be used to purchase "priority" items such as food, housing, clothing, education and health care.
The government calls the cards a form of income management. While some use the cards voluntarily, for others they are compulsory.
That is why this world-first system of welfare payments has won both praise and disapproval.
Compulsory income management was introduced by the government of John Howard in 2007 and was initially confined to the Northern Territories and parts of Queensland.
By forcing some onto the scheme, it represented a major change to the Australian welfare system.
Until that point, there were few restrictions placed on recipients over how they used their benefit payments.
Now the government believes the scheme is working so well, it is rolling it out across much of the country, at a cost of around A$1bn ($1.03bn; £660m).
The Basics card is a reusable "credit" card that makes people spend their welfare money at approved stores and businesses.
The card can only be used to buy essential items - it cannot be used to purchase gift vouchers, take cash out from a store or an ATM.
Money is electronically placed on the card once a fortnight, when people receive their benefit payments.
No more than A$1,500 can be spent per day. If money is not spent, it can be built up as savings.
Between 50% and 70% of income is "quarantined" in this way, depending on the individual's circumstances. The rest is available as cash.
Crucially, it reduces the amount of discretionary income available for alcohol, gambling, tobacco and pornography.
Three main types of people use the cards: some young people, people referred by child protection authorities and people regarded by social workers as vulnerable to financial problems.
According to the government, income management is "a key tool in supporting disengaged youth, long-term welfare payment recipients and people assessed as vulnerable, and is aimed at encouraging engagement, participation and responsibility".
"I hate it," said Barbara Shaw, a mother of three from Alice Springs, in central Australia. "It's patronising and it stigmatises me as someone on welfare."
At her local supermarket, she selects items and heads to the check-out to swipe the card.
"People stare when I bring out my Basics card," she said. "Even the shop assistants roll their eyes when they see one. It's embarrassing."
At home in her indigenous compound on the outskirts of Alice Springs she makes a wider point.
"This is not only overtly paternalistic," she said. "It's also racist, as most people on income management are Aboriginal."
While the government denies any racial motivation, the figures certainly support Barbara's assertion that it is mostly indigenous people using them.
According to a recent Federal Parliamentary report, of the 17,000 people subject to income management in the Northern Territories, 90% are indigenous. In Western Australia, of the 232 people on the scheme, 60% are indigenous.
The government argues that the Aboriginal community has historically been more prone to abuses of welfare payments, especially through problems with alcohol and that they were therefore bound to feature more prominently in any system designed to change the way such income is spent.
Whether or not the scheme is racist, Paddy Gibson, a researcher at the University of Technology in Sydney, says there are doubts over whether it is having the desired effect.
"There's no evidence that there's less gambling in the Northern Territory. There's no evidence there's less drinking in the Northern Territory. Actually a lot of communities that I talk to believe there's more alcoholism now," he said.
Jenny Macklin, the Minister for Families, disagrees.
"It's an additional tool to help families better manage their money in the interests of their children - to make sure that welfare payments are spent on the essentials of life," she told the ABC television network.
"We've had it now operating for a few years; we know that it's helpful. The individual stories are very positive."
There are many people on the scheme who would support that view.
One of them is Karen Tremain, a single mother-of-two in the western city of Perth who suffered from depression and receives a disability allowance. She volunteered to take a Basics card.
"It's the best thing I've ever done," she said. "Without income management we would probably have lost the house and we would have been on the streets. Now I know what money I have and I've even built up a little in the kitty to spend on a holiday."
Unlike Barbara, Karen sees no indignity in using the card. "No, I don't feel stigmatised. So many shops take them now, I look and act like every other shopper," she said.
'Individual responsibility'
When the government announced it was expanding the scheme to much of Australia, it prompted street protests in one low-income Sydney suburb.
Paddy Gibson, the university researcher, joined the activists against the cards.
"We think that the imposition of income management has the potential to make that person's life harder, to make that person's life worse," he said.
He said people had been left begging the authorities to transfer money so they could buy things like jeans from shops that were not on the scheme.
But the government is determined to expand the use of the cards.
"Welfare should not be a destination or a way of life. The government is committed to progressively reforming the welfare system to foster individual responsibility," said Jenny Macklin, the families minister.
Basics cards go much further than other government welfare programmes around the world.
The American Food Stamps scheme (renamed SNAP in 2008 in part to address the stigma associated with food stamps) is perhaps the closest equivalent.
Other countries have punitive measures, reducing or suspending payments if an individual fails to meet specific responsibilities, like enrolling children in school.
But none of these equates to Australia's more holistic approach.
The Basics card imposes spending discipline on people across vast areas of their lives, removing a large degree of choice.
For many, that breaches an important philosophical principle in the relationship between state and citizen.
Related Internet Links
The BBC is not responsible for the content of external sites.