Policing the remote Himalayas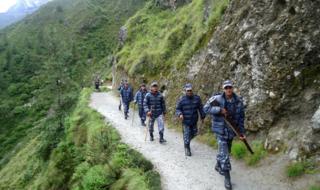 Most of the annual hordes of trekkers left the slopes of Nepal's Himalayas weeks ago, after the monsoon rains descended. But police remain in the region - investigating the death of a young Belgian woman and the disappearance of a British man.
The headless body of Debbie Maveau, 23, was found on 14 June on a forest slope below the Gosaikunda trekking trail, more than two weeks after she went missing.
"Her body was decomposed when we found it. Her head was two or three feet below her body," says Achyut Pudasaini, a police officer based in Dhunche, near Langtang, where her body was found, told the BBC.
"It wasn't clear how that happened."
Closer to Everest base camp, British trekker Zisimos Alexander Souflas, 27, has been missing since 23 April, when at the break of dawn he reportedly left his guesthouse at Namche Bazar, a popular Sherpa hamlet en route to the camp.
Investigations in the remote Himalayas are challenging at the best of times, but as the police continue their work through the wet summer months they face serious obstacles.
Nepal's mountainous terrain - prone to natural disasters such as landslides, floods and avalanches - makes searches for missing trekkers a difficult task. There is no dedicated search and rescue unit, so this is a job for local police.
And apart from the challenge of the elements, wild animals roam the area, complicating the task of finding and identifying bodies, police say.
They still do not know what happened to Debbie Maveau.
"Even the post-mortem report couldn't determine the cause of her death and that is what makes Maveau's case very complicated for us to investigate. All her belongings and money were intact with her body," says Pudaisini.
"The trail is generally very quiet and the weather isn't too good - with floods and landslides, the investigation isn't yielding much."
Searches for Souflas have been equally fruitless.
"It's raining continuously, very foggy and misty, and the trails are either slippery or landslide prone but we haven't given up," says Tukaram Adhikari, a junior police officer at Namche Bazaar police station, and part of the investigation team.
"We don't have adequate mountain gear and search equipment, but all the police staff in four stations in the Everest region are alert and working hard to trace his whereabouts," says Adhikari.
After combing all the trails in the area, Adhikari says his police team searched the area around Imja glacial lake at 5,010m (16,437 ft).
"It was snowy and the lake was frozen and that made it very risky to move around," he says. "It was a very tough climb. One of our colleagues even suffered high altitude sickness, and had to be carried down."
Police say they haven't give up hope of a breakthrough.
The Trekking Agencies' Association of Nepal (TAAN) says the chances of something untoward happening in the mountains are low. Of the 735,000 foreign tourists who visited Nepal in 2011, about 35%, or a quarter of a million, went trekking, according to Nepal's trekking agents' association.
"It's very safe, too, so long as you are physically fit to do it, have the necessary gear and take proper safety and security measures such as hiring a guide and registering your movements at several entry and exit points," says TAAN's Gangaram Pant.
The registration system for trekkers - the Trekkers' Information Management System (TIMS) - requires climbers to check in at points along their route - if they go missing, information is always stored about their last known location.
"Unless you are registered, nobody will have a clue where you could be. If you slip and fall and break your back who is going to help you? Wildlife definitely won't," says Dawa Steven Sherpa, who has climbed Everest.
Tourism officials say trekkers should always have someone with them, and new laws to make it compulsory for foreign trekkers to employ guides are being considered by the home and tourism ministry.
The UK Foreign Office also warns trekkers against walking alone, or becoming separated from their group at any time.
"There have been reports of trekkers being robbed where violence or the direct threat of violence has been used. Isolated incidences of rape have also been reported on trekking routes, and female travellers in particular should stay vigilant," its website states.
"Since 2003, four British nationals and eight other foreign nationals who had been trekking alone were reported missing."
Miracles do happen.
Last year, a missing Japanese trekker, Makiko Iwafuchi, 49, survived on leaves and bamboo shoots for two weeks before she was rescued.
In February 1992 an Australian trekker, James Scott, then 22, was rescued alive after 42 days without proper food, water or shelter. His sister flew from Brisbane to mount a long and arduous rescue mission.
Not every missing trekker in the Himalayas will be as lucky.
And police warn that as the monsoon rains continue, the task of finding out what happened in the Maveau and Souflas cases gets that much harder.