US military Osprey aircraft arrive in Japan amid protests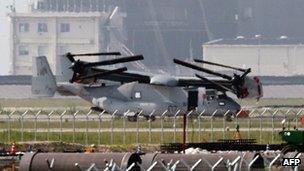 Twelve Okinawa-bound US military aircraft have arrived in Japan, amid protests by residents over safety.
The Osprey aircraft arrived by cargo ship at a US base in Iwakuni, western Japan, ahead of deployment to Okinawa later in the year.
The Ospreys will be based at Futenma, an airbase in a crowded part of Okinawa that residents want closed down.
The US has agreed to close the base, but there is deadlock over the proposed replacement site.
In a statement, the US said the deployment of the Ospreys - which have a rotor and can take off like a helicopter - was "a vital component in fulfilling the United States' commitment to provide for the defence of Japan".
But local leaders in both Iwakuni and Okinawa say the aircraft are not safe, citing crashes this year in Morocco and Florida.
Protesters gathered in Iwakuni, some in small boats, to demonstrate as the ship carrying the Ospreys arrived.
Iwakuni Mayor Yoshihiko Fukuda said he would submit a protest to Tokyo.
"We have been urging that it not be allowed into the port until safety is confirmed," Kyodo news agency quoted him as saying. "We feel distrust and indignation that (our message) did not reach the state."
Japanese Defence Minister Satoshi Morimoto said he was relieved the aircraft had "been delivered safely".
The Japanese government is facing increased pressure - particularly in Okinawa - over the US military footprint, putting it in a difficult position with its key ally.
Many Okinawa residents want Futenma airbase moved off the island altogether, rather than replaced with a new facility in the less populated north of the Okinawa.