Singapore's Olympic gold chase a hurdles race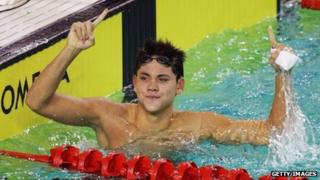 Singapore prides itself on coming up on top globally in many fields - not least its economy and education system. But somehow, an Olympic gold has remained an elusive dream.
Despite having sent athletes to most Olympic summer games since 1948, the wealthy South East Asian nation can only boast two silver medals.
Feng Tianwei, Li Jiawei and Wang Yuegu - who took second place in women's team table tennis at the 2008 Beijing games - are keeping hopes for another medal alive in London this month.
More than half of Singapore's 23-strong team in London are Olympic first-timers - ''a very encouraging sign for sports in Singapore'', chef de mission Jessie Phua said in a statement.
Nonetheless, men and women in the island nation pursuing dreams of a professional sports career or an Olympic gold find themselves facing several hurdles.
For a start, young athletes find themselves juggling training schedules with pressure to perform well in school - academic excellence is still valued above all else in Singapore.
''Even when going overseas to compete, they bring their books,'' said Singapore National Olympic Council secretary general, Chris Chan.
One of Singapore's rising stars competing in London is 17-year-old Joseph Schooling. Named Sportsman of the Year recently, he is attending school in the US and has already swum in the same event as his hero Michael Phelps.
To cope, he says via email, he has ''to be disciplined and work out a schedule''.
Asked what could be done to support athletes such as himself, he listed the deferment of national service - male Singaporean citizens have to enrol in the military for two years of full time service at the age of 18.
''So athletes can serve after their sporting career is over, as national service is also an important element to the country,'' he said.
Olympic path
The country's most successful sports star, Fandi Ahmad, was the first Singaporean footballer to play in Europe and, according to local media, the country's ''first millionaire sportsman when he turned 30 in 1993''.
But the option of a professional sporting career is available to few. Many have day jobs and take annual leave to train and travel for competitions.
''Our athletes have a lot to lose if they train full time,'' said Mr Chan.
To be sure, the Singapore government has invested considerably in the country's sporting ambitions.
The S$75m ($60m; £38m), eight-year-old Singapore Sports School was established to nurture young athletes in a ''world-class'' sports environment that also promises ''academic rigour''. Several of its students are among the nation's London 2012 team.
In 2009, an Olympic Pathway Programme was set up to support athletes training for the games, with the future goal of establishing a national sports institute. More than half of the S$6.5m fund has been used in support of 11 athletes from four sports, said the Ministry of Community Development, Youth and Sports in May.
In another effort to boost its standing in the global sporting arena, Singapore organised the inaugural Youth Olympic Games (YOG) in August 2010, to the tune of more than S$380m - three times the original budget.
Responding to criticism, the ministry said that the event, the largest of its kind ever in the country, was ''a major branding opportunity''.
''To put things in perspective, the YOG was one third the size of the Summer Olympics, but our expenditure was less than 10% of the most recent Games,'' the ministry said.
'Passion and enthusiasm'
Following the 2008 games, a debate erupted over the import of sports stars from overseas under the Foreign Sports Talent Scheme - Singapore's medallists, Feng, Li and Wang hailed from China.
The government maintains that the scheme was meant to complement Singapore's sports development, and the commitment remains to nurture home-grown athletes.
Foreign-born athletes have come to be embraced by many in the country. But, locals maintain, having a small talent pool is not an issue, as countries with similar sized populations such as Norway and New Zealand have managed to win Olympic medals.
The issue lies more with the lack of a systemic and holistic approach toward identifying sporting talent, said Mr Chan.
''When we spot a young athlete, it is more by chance,'' he added.
Fundamentally, Singapore lacks a real sporting culture, said nominated Member of Parliament Nicholas Fang, a former national fencer, and triathlon and pentathlon athlete.
Without a ''broad base of passion and enthusiasm'' for sports, it is hard to build an ''ecosystem'' to support athletes who want to pursue their sporting dreams, he added.
Singapore's latest effort involves a massive report, titled Vision 2030, aiming to pull together ideas and views from various sectors and the public on the development of sports.
There are also concerted attempts to get the nation to rally behind the ''Team Singapore'' athletes at the games in London.
But away from the excitement, the issue goes back to dollars and common sense.
''You can't make a living playing badminton full time,'' said Mr Chan.
The council, he added, had been helping athletes seal corporate sponsorship deals. These could extend a sporting career by a year or two at a time.
Incentives for the private sector to stage more sports events would help create a more vibrant sporting culture, said Mr Fang. But, ultimately, efforts have to be ''driven at all levels'', he added.
''We have to remove the stigma that sports versus 'real issues' like academics and careers is a zero-sum game.''