China rainfall: Beijing resident describes deluge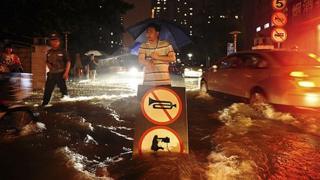 At least 10 people have been killed in the heaviest rains in Beijing in more than 60 years. State media said the rains struck on Saturday afternoon and continued into the night.
Here, Beijing resident Reece Ayers, a 20-year-old intern from England, describes Saturday's downpour.
"I was out celebrating my 20th birthday in Beijing yesterday, the beginning of which was in the Happy Valley theme park.
Around 13:00 the rain began thundering down. We managed to take a taxi home, and spent the next several hours inside.
My partner had planned a surprise meal with all of my friends that evening, which went ahead despite the weather. I stepped outside of my apartment complex and was met with around a foot (30cm) of water, loose manhole covers and floating debris.
It might have been wise to return home, but my friends had already gathered at the restaurant and awaited my arrival.
We decided to take the subway to the restaurant, and travelled to Jianguomen. From here, we walked to the restaurant and were met with terrifying loud bolts of lightning and truly relentless downpours.
We reached one street which was almost completely submerged. Cars struggled to trudge through the mess and some ended up cutting out in the middle of the street, half submerged in dirty water.
Old women could be seen wading through the streets and shop owners desperately tried to tunnel water from their establishments.
Literal waves of water were sending bicycles tumbling and rubbish bins floating. I was terrified, most of all, by the thought of tumbling down a manhole without a cover after a friend told me that several people had died that way last year.
We finally managed to wade through the temporary sea and reached our destination, to find leaky ceilings and soaked customers.
Each of my friends had a different story to tell. One had attempted to pass under the Guomao Bridge in a taxi, when the taxi got stuck in the deep water and he had to wade back to his original destination. Another friend told of several roads being blocked by cars attempting to pass through areas of very deep water.
Despite all of this, the weather today - Sunday 22 July, my official birth date - is glorious, the best it has been in weeks."