Sri Lanka lawyers boycott courts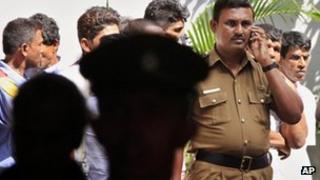 Lawyers and judges across Sri Lanka have boycotted legal proceedings because of alleged political interference with the judiciary.
They accused a Muslim government minister of threatening a magistrate in the north-western town of Mannar.
The judge recently ruled in a dispute involving Muslims and Catholic Tamil fishing communities. Muslims allege the decision favoured the Catholic Tamils.
It is not clear if the boycott will continue when courts reopen on Monday.
On Wednesday, a group of Muslim protesters were blamed for trying to attack the court in Mannar, prompting police to fire tear gas and rescue the magistrate.
"Courts across the court did not function today because of the protest," Judges' Association secretary Pradeep Jayatillake told AFP news agency. "We endorse the move by the Bar Association to stay away from hearings today."
He alleged there had been "direct interference" with the judiciary in Mannar.
There was no immediate reaction from the government.