Bangladesh's most enduring storyteller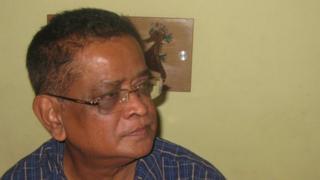 Humayun Ahmed, who has died of cancer aged 64, was not just Bangladesh's best-selling author. He was idolised by an entire generation of young men and women who grew up in the 1980s and 1990s.
The irony is Ahmed probably never wanted to be a writer. He studied and taught chemistry at Dhaka University.
But once his first novel was published in 1972, he never looked back. From novels and short stories he went on to writing dramas for television and then directed films of his own stories.
Ahmed always dismissed suggestions that students who studied science subjects were not meant for the world of literature.
''How many students of English or Bangla literature go on to become writers?" he retorted during an interview given to the BBC Bengali service just a few months ago.
''I don't think there is any relationship between what you study and what you actually become later on."
Deadpan humour
In his novels Ahmed created characters - eccentric, comic, loveable - to which young readers readily related. Some characters became larger than life.
He introduced a kind of deadpan humour in his writing that was very rare in Bengali literature. He explored the ups and downs of middle-class urban life with a sharp eye for the funny side.
One of India's top authors, Sunil Ganguly, described Ahmed as ''the most popular writer in the Bengali language for a century''.
Until the late 1970s, Indian writers such as Ganguly held sway in the Bangladesh book market.
But Ahmed almost single-handedly broke that stranglehold and breathed life into the country's publishing industry.
While his novels captured the imagination of the youth, particularly students, the dramatisation of those stories on television introduced Ahmed to a much wider audience.
By the middle of the 1980s he was not only the country's best-selling author, he was also the hottest property on television.
His fame crossed the border as audiences in the neighbouring Indian state of West Bengal hungrily tuned into Bangladeshi television to watch his dramas.
But he often got into trouble for his irreverence.
Islamic preachers were once furious when he created the character of an idiotic house servant called Kader who claimed to be from ''Syed family''.
In Bangladesh many people believe Syeds are descendants of the Prophet Muhammad.
In the same drama titled ''Bohubrihi'', he portrayed a young doctor as a love-struck simpleton. Many doctors, in all seriousness, issued statements of protests.
Baker Bhai's demise
But perhaps Ahmed's most enduring character was a lovable rogue called Baker Bhai. A useless layabout who hung around teashops, Baker was also the local do-gooder.
Because of his tendency to help out damsels in distress, Baker became a sensation on Bangladesh television.
But in the drama ''Kothao Keu Nei'', Baker was convicted - wrongly - of murder, which infuriated people all over the country.
Protests broke out everywhere, demonstrations were brought out.
Letters and petitions urged Ahmed not to kill off Baker Bhai. But Ahmed stuck to his storyline and Baker Bhai was hanged.
For years afterwards, special prayers were held in many localities to pray for the departed soul of this fictional character.
Ahmed himself was quite perturbed by this public agitation over Baker Bhai's hanging.
''So many people are hanged for no good reason, so many people die by the roadside and there is hardly any public headache over these. Yet, here was a fictional character being hanged and the public are up in arms. I was quite taken aback by all this," he told the BBC.
Unity
But Ahmed was not free from other controversies.
Nine years ago he divorced his wife after a marriage lasting three decades, and married a close friend of his second daughter.
Despite the public and private criticism that his marriage to a woman his daughter's age generated, Ahmed's popularity with young Bangladeshis remained unmatched until the end.
Indeed, in a rare display of unity, the country's rival political leaders expressed identical sentiments upon hearing of his death.
"Humayun Ahmed's death is an irreparable loss for the nation," said Prime Minister Sheikh Hasina in a statement.
"His death creates a massive void in the world of Bengali literature and culture which cannot be filled soon," said opposition leader Khaleda Zia.