Afghan policemen killed in Uruzgan bomb blast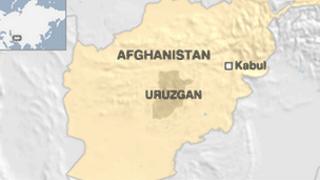 A roadside bomb has killed five policemen, including a police chief, in Afghanistan's southern province of Uruzgan, local officials say.
The blast happened in the Sarab district at 12:00 local time (05:30) on Thursday night.
The district police chief's car had struck the bomb as they responded to a Taliban attack on a security checkpoint, officials say.
Nobody has said they carried out the attack.
"Four police bodyguards along with district police chief, Ahmadullah, were killed in Sarab district in Uruzgan province late last evening," Abdullah Himmat, spokesman of the provincial governor, was quoted by news agency Agence France-Presse (AFP) as saying.
Gulab Khan, provincial police investigative director, also told AFP that the men died as they went to respond to an attack by Taliban insurgents at a security checkpoint.
Afghan security forces are key targets for the Taliban as Kabul prepares to take over security responsibilities from the Nato-led coalition in 2014.