Japan's women footballers irked by Olympic flight seating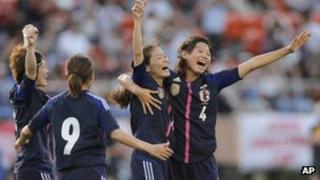 Members of Japan's women's football team have complained about having to fly economy class to the Olympics while the men's team were in business class.
The women, strong contenders for gold, flew premium economy to Paris. The men are not expected to win a medal.
"I guess it should have been the other way around," star player Homare Sawa told Japanese media.
She said her team had been given business class seats last year, but only after they won the World Cup.
"Even just in terms of age, we are senior," she jokingly said after arriving in Paris on Monday.
This is the fourth time that Sawa, 33, is taking part in the Olympics. She is the oldest Japanese player to taking part in the football in London.
She captained the Japanese women's team, which received a hero's welcome when it returned home after victory over the US in the World Cup in July 2011.
Japan's Olympic Committee has given most of their athletes economy class seats, with a few exceptions.
The Japan Football Association has been funding male footballers to fly business class since 1996. The women's plane tickets had also been upgraded, but only to premium economy.
The association has said that seat upgrade for the male players was in recognition of their professional status, local media report.