UN polio vaccine doctor injured in Karachi attack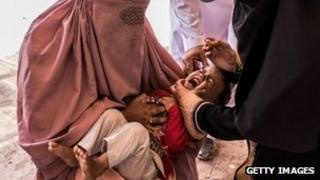 Gunmen have attacked a UN vehicle, critically injuring a doctor who was administering polio vaccines in the southern Pakistani city of Karachi.
The foreign doctor was in the run-down Sohrab Goth area of the city, officials say. His driver was also hurt.
No group has said it carried out the shooting, but the Taliban have issued threats against the polio drive and are thought to be active in Sohrab Goth.
On Monday Pakistan launched its latest polio immunisation campaign.
Officials say that the UN official has been rushed to a nearby hospital. It is not clear what his nationality is.
Local police station chief Mohammad Sultan told the AFP news agency said that the doctor had been working in the area for about three months and that he could have been targeted deliberately.
"It could be related to the polio campaign, as there is resistance in the population against it. We are, however, still investigating the motives," Mr Sultan told AFP.
Parts of the city are highly volatile and hundreds of people have been killed in recent years because of ethnic, political and sectarian violence.
'Spying campaign'
Pakistan is one of only three remaining countries where polio is still endemic. The disease is also endemic in Afghanistan and Nigeria.
Pakistan says 34 million children under five will be targeted in the three-day vaccination campaign from Monday to Wednesday, AFP reports
But about 250,000 children in Pakistan's tribal areas will not receive vaccine in the drive because of a Taliban-imposed ban.
The Taliban said recently that vaccinations in North and South Waziristan were banned until the US ended drone strikes in the region.
There has been opposition to such immunisation drives from some powerful clerics while a fake CIA vaccination campaign, which helped to locate Osama Bin Laden in the Pakistani city of Abbottabad, is thought to have had a detrimental effect as well.
Militants have kidnapped and killed foreign NGO workers in the past in an attempt to halt the immunisation drives which they say is part of a scheme orchestrated by Western and local intelligence agencies for spying on them, reports the BBC's Syed Shoaib Hasan in Karachi.
Nearly 200 children contracted polio in Pakistan in 2011 - the worst figures in more than a decade, according to the Lancet medical journal.