Sri Lanka Olympic captaincy row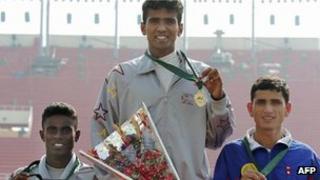 As the sports fans in the world are counting the days for the opening ceremony of London 2012, a row has erupted in Sri Lanka over who should carry the national flag in the event.
Sri Lanka Olympic authorities on Thursday named national badminton champion Niluka Karunarathne as the captain of the seven-member team.
But Anuradha Indrajith Cooray, who qualified for the Olympics in the London Marathon claims he is the most suitable to have the honour of carrying the national flag.
"I was a member of the 2004 Olympic team and I also have won a SAAF gold for the country," Cooray who came 30th in the Athens Olympic marathon told BBC Sinhala service.
"I am not happy that Niluka is appointed captain. I think captaincy should be given to somebody who has done more for the country," he added.
Captain Karunarathne, who claims both are very close friends, disagrees.
"Anuradha is entitled to his personal opinion but I don't know how he is more qualified than myself. At least I qualified for the Olympics much earlier than him," Niluka Karunarathne responded.
Karunarathne is currently training for the London event together with the Polish national badminton team in Poland.
Both the badminton player as well as the marathon runner insist that the issue over captaincy will not affect the team unity or morale during the London event.
Sponsor 'failure'
Cooray, who has been training in the UK for the last few years claims another grievance against the island nation's sports authorities.
"I have been working full time, 38 hours a week, as nobody sponsors me for my training," he said.
Sports Minister Mahindananda Aluthgamage personally pledged to help find a sponsor as well as Sri Lanka High Commissioner in London, he said, but he is yet to get a positive response.
"I am the only athlete representing the country at London Olympics but I am really sad that the country has nor recognised my value," Cooray told BBC Sinhala service.
He added that he aims to be among top 15 marathon runners at the London Games.
President Mahinda Rajapaksa who visited London recently as part of Queen's Jubilee celebrations has instructed to the High Commissioner to find a sponsor for the athlete, he says, but the high commission has also failed to do so.
"I think the president is not informed properly about my services to the country."
There was no immediate response from Sri Lanka High Commission in London.
BBC Sinhala service could not contact Minister Aluthgamage despite repeated attempts.
Christine Merrill, Thilini Jayasinghe, Mangala Samarakoon, Heshan Unamboowe and Reshika Udugampola are the other members of the Sri Lanka squad.
Sri Lanka has only ever won two Olympic silver medals; Susanthika Jayasinge's bronze for women's 200m in 2000 Sydney Olympics was later upgraded to silver after Marion Jones admitted taking drugs.
At the last London Olympics n 1948, Duncan White won silver at men's 400m hurdles.