China rescues navy frigate stranded near Philippines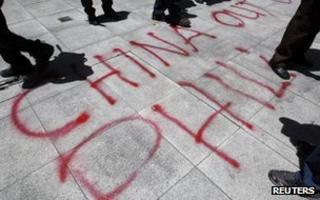 A Chinese naval vessel that ran aground in disputed waters near the Philippines has freed itself, officials say, averting a potential stand-off.
The frigate is to sail home with minor damage after extricating itself with the help of a rescue team, China's defence ministry said.
The ship struck Half Moon Shoal, 110km (70 miles) from western Palawan province, late on Wednesday.
The countries' rival territorial claims in the region have raised tensions.
The frigate managed to free itself at 05:00 local time on Sunday (21:00 GMT Saturday), the Chinese statement said. No crew members were hurt, and there was no environmental pollution, it added.
The head of the Philippine navy, Vice Adm Alexander Pama, said at least six Chinese navy vessels had been involved in helping to re-float the frigate, according to the Associated Press news agency.
Search-and-rescue vessels from the Philippine coastguard had been deployed nearby to provide assistance if needed, he said.
On Saturday, the Philippine government said it had asked China to explain how the vessel had run aground within what it said were its territorial waters.
Tension
Half Moon Shoal - part of the Spratly Islands archipelago - is claimed by both the Philippines and China.
Several nations have overlapping territorial claims to the oil-rich South China Sea. China claims nearly the entire sea as its historical territory.
The Philippines and China have been involved in tense offshore exchanges this year.
There was a month-long stand-off at another disputed area, Scarborough Shoal, 710km north of Half Moon, with Manila accusing Chinese fishermen of poaching.