Tonga's Crown Prince Tupouto'a Ulukalala marries cousin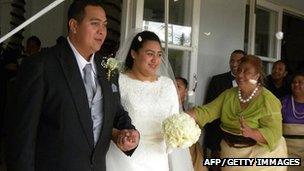 The heir to the throne of Tonga in the South Pacific has married his second cousin in the capital Nuku'alofa.
Crown Prince Tupouto'a Ulukalala and his bride, Sinaitakala Fakafanua, both in their 20s, waved to cheering crowds as they left church after the wedding.
Tongans are marking the event with traditional feasts and offerings of cooked pigs.
The marriage comes four months after the death of King George Tupou V in March.
Marriage between cousins is seen as a way of keeping the royal bloodline strong in Tonga.
"It's a new beginning for the royal household," the crown prince's uncle Lord Vaea told New Zealand TV.
"We are looking to preserve the constitutional monarchy," he added.
Related Internet Links
The BBC is not responsible for the content of external sites.