Thai king pardons US man jailed for royal insult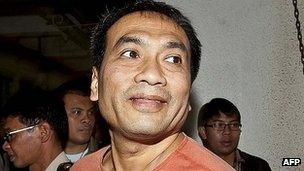 A US citizen sentenced to two-and-half years in prison for defaming Thailand's royal family has been pardoned by the king and released from jail.
Thai-born Joe Gordon, 55, was accused of posting online excerpts of a banned biography of Thailand's King Bhumibol.
Mr Gordon posted the items while in the US but was arrested when he visited Thailand. He was jailed in December.
Strict Thai laws against defaming the monarchy allow for sentences of up to 15 years in prison.
No reason was given for Mr Gordon's pardon, but Washington has pressed Thai authorities to release him since he was arrested on charges of lese-majeste in May 2011.
The lese-majeste law, or article 112 of Thailand's criminal code, protects the most senior members of the royal family from insult or threat.
Mr Gordon, a used-car salesman from Colorado, was freed from Bangkok's Remand prison on Tuesday, US embassy spokesman Walter Braunohler said.
"We are pleased that His Majesty King Bhumibol Adulyadej granted Joe Gordon a royal pardon, which allowed him to be released from prison," Mr Braunohler said.
"We urge Thai authorities on a regular basis, both privately and publicly, in Bangkok and in Washington, to ensure that freedom of expression is protected in accordance with its international obligations."
Mr Gordon's whereabouts are not known and it is not clear if, or when, he will return to the US.
King Bhumibol Adulyadej, 84, is the world's longest-reigning monarch and is revered as semi-divine by many Thais.
Mr Gordon had translated parts of the widely available biography, The King Never Smiles by Paul Handley, several years ago and posted them on a blog while he was living in the US.
He was originally sentenced to five years in jail, but judges halved the term because he pleaded guilty.
In May, an editor of a political website was given an eight-month suspended sentence for failing to remove comments deemed insulting to the monarchy.
In the same month, a Thai man in his 60s who was jailed for sending text messages deemed offensive to the royal family, died in prison.
Activists say the lese-majeste law has become increasingly politicised, and is used as a tool of repression rather than as a way of protecting the monarchy.