Afghanistan Kandahar suicide bomber kills seven people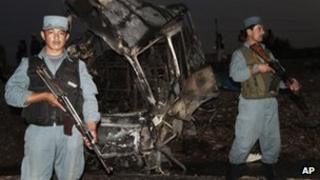 At least seven people have been killed and many more wounded in a suicide car bomb attack in the Afghan city of Kandahar, police have said.
The bomber rammed an car packed with explosives into a vehicle carrying workers from a nearby US base, a local official said.
The attack happened in front of Kandahar university.
On Sunday, a policeman shot dead three UK soldiers serving with Nato forces in neighbouring Helmand province.
The base near the attack on Monday is now used by US special forces, provincial police chief General Abdul Razaq told AFP news agency.
It is close to the former compound of Taliban leader Mullah Omar, officials say.
Militants often attack government and military targets in Kandahar.
They regard the province as their spiritual homeland and for much of the last decade it has at the centre of the insurgency against the western-backed government of President Hamid Karzai.
Chaotic violence
Jawed Faisal, a spokesman for the provincial governor, told AFP that most of the victims of Monday's attack were Afghans working at the base.
Correspondents say it is well known that high-ranking officials study at Kandahar university in the evenings.
Last month at least three policemen were killed and six injured when militants wearing police uniforms attacked a checkpoint in Kandahar city.
Nato and Afghan forces are the main targets for the militants in Kandahar and elsewhere in Afghanistan, but so too are local civilians working for the coalition.
Most of Nato's 130,000 troops in Afghanistan are due to leave by the end of 2014, handing security responsibilities over to local forces. That process has already happened in much of Kandahar, where violence has increased in recent months.
There have been fears that the withdrawal could trigger a return to the chaotic fighting of the 1990s.