Australian PM Gillard defends carbon tax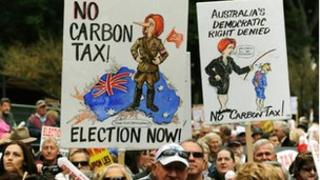 Prime Minister Julia Gillard has been trying to rally support for Australia's carbon tax, a day after protests as the law came into force.
The prime minister embarked on a series of interviews as a poll showed that almost two-thirds of the public were against the controversial tax.
People would see the impact of the policy in ''months to come'', she said.
The tax, targeting the country's worst-polluting companies, was introduced after months of political wrangling.
The law would force at least 300 firms to pay a A$23 ($24; £15) levy for every tonne of greenhouse gases they produced.
The Nielsen poll, published in newspapers, said support for the tax was at its lowest since it was announced 15 months ago, falling 4% in the last month to 33%.
"There has been a hysterical fear campaign from the doomsday merchants who have tried to convince people over the last 12 months... that we'd see, for example, the coal industry go out of business," Ms Gillard told ABC Radio.
"People are in a position, from the start of carbon pricing and in the days ahead, to weigh the worth of those claims."
Opposition leader Tony Abbott has pledged to repeal the legislation if he wins the next election due in 2013.
'Toxic tax'
The government says the tax is needed to meet climate-change obligations of Australia - the highest emitter per-head in the developed world.
But the opposition has called it a "toxic tax" that will cost jobs and raise the cost of living.
Environmentalists have broadly backed the scheme. On Monday, a national advertising campaign supporting the policy was launched by a 300-strong group labelling themselves "Businesses for a Clean Economy".
But there have been large public protests against it. Several thousand protesters gathered in Sydney on Sunday, chanting "axe the tax" and calling for an early election.
Australia's mining firms, airlines, steel makers and energy firms are among those expected to be hardest hit by the the Clean Energy Act.
Domestic fuel bills are expected to rise as companies pass on the costs to consumers, but the government says that low income earners will be compensated.
The government also hopes that the legislation will force innovation in renewable energy supplies, and free the country from its reliance on fossil fuels.