China blogger who mocked Bo Xilai online wins case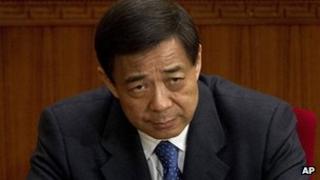 A court in China has ruled that the detention of a blogger who mocked scandal-hit politician Bo Xilai was illegal.
Fang Hong filed a case against his conviction in the city of Chongqing.
Mr Fang, a forestry employee, was sent to a police-run labour camp in 2011 for one year on charges of "inciting social disturbances", state-run media Xinhua reports.
He had posted a poem criticising the now disgraced Mr Bo on a microblog.
The court in Chongqing, where Mr Bo once ruled, cited "lack of evidence for the administrative punishment" against Mr Fang, Xinhua reports.
He was detained after posting "a joke" that criticised Mr Bo and his former police chief, Wang Lijun, for "meddling" in a case against a controversial lawyer with mafia ties, Xinhua adds.
"I am very happy both personally and for the city of Chongqing," Mr Fang is quoted by news agency Associated Press as saying.
"This is the start of a process of restoring the rule of law in the city."
Mr Fang, 51, who was released from a police-run detention facility on 24 April, also told AP he would seek compensation of $6,000 (£3,843) and an apology from the city government.
Mr Bo was sacked in March and is under investigation for breaches of Communist Party discipline.
His downfall was triggered when his police chief, Wang Lijun, fled to the US consulate, reportedly to seek asylum, after falling out with Mr Bo over his investigation into the death of British businessman Neil Heywood.
Mr Heywood was found dead in a hotel in Chongqing on 15 November 2011.
Local officials initially said he died of excessive drinking, but the government announced in April that it was investigating Mr Bo's wife in connection with the case.