Police raid Sri Lanka Mirror and Sri Lanka X News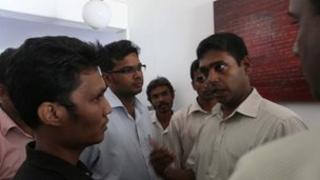 Sri Lankan police have raided the shared office of two news websites, arresting nine people, mostly journalists.
Police say they were arrested for publishing anti-government material.
Computers and phones from the office of Sri Lanka Mirror and Sri Lanka X News were also confiscated by police, witnesses told the BBC.
The raid on the websites comes amid growing concern about media freedom in Sri Lanka.
Correspondents say the websites support the political opposition.
The office of the two websites has been sealed. Police have also raided the home of a senior journalist at the Sri Lanka Mirror.
Police say they found anti-government material in the websites' office.
"This is clear proof that media freedom is dead in Sri Lanka," opposition MP Ravi Karunanayake told BBC Sinhala.
Earlier this week, five Tamil-language news websites were blocked.
In November last year, several Sri Lankan websites were temporarily blocked for "maligning the president".