Hazara Shia community on strike over Quetta attacks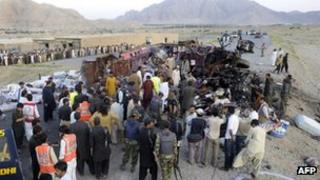 A strike has been called by an ethnic Hazara political group in the Pakistani city of Quetta one day after a deadly attack on a bus carrying Shia pilgrims.
The death toll from the attack rose overnight to 13, including two policemen, who were killed when an explosion hit the bus.
The banned Sunni militant group, Lashkar-e-Jhangvi, said it carried out the attack.
At least 60 Hazara Shias have died so far this year in such attacks.
The province of Balochistan has seen growing violence - widely blamed on Sunni militants - against the Hazara community over the past year.
Quetta, the capital of the province, is also located on the main route of Shia pilgrims going to Iran - which remains the spiritual headquarters for Islam's Shia community.