Vietnam decries 'illegal' South China Sea oil bid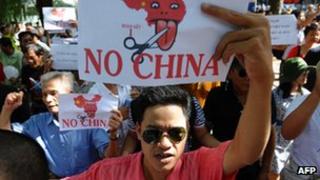 Vietnam has protested against China's plan to invite foreign oil bids in a disputed area in the South China Sea, adding to tensions in the region.
The foreign ministry said the move was "illegal" and a serious "violation of Vietnam's sovereignty".
It added that the oil blocks are "deep inside Vietnam's exclusive economic zone and not a contested area".
China's CNOOC oil company on Saturday said that nine offshore blocks were open to foreign bids this year.
The China National Offshore Oil Corporation announced on their website that "part of open blocks in waters under jurisdiction of the People's Republic of China" were "available for foreign co-operation".
Chinese foreign ministry spokesperson Hong Lei also said during a news briefing on Tuesday that the tender was "normal business activity" and asked that Vietnam "not further complicate and aggravate the dispute".
Controversial
But Vietnam disagrees.
"This is absolutely not a disputed area. [CNOOC's move] is illegal and of no value, seriously violating Vietnam's sovereignty," Vietnam's foreign ministry said in a statement.
It added that China's move is "causing tension" in the South China Sea.
The country's state-owned oil company, PetroVietnam, also called on international firms to boycott the bid invitation.
Some see China's decision to announce the bids as retaliation for a new law passed by Vietnam last week reaffirming its sovereignty over the Paracel and Spratly islands, says Nga Pham from BBC Vietnamese.
She adds that this is the second time that PetroVietnam has publicly denounced China's moves in the South China Sea.
In 2011, its accusation that Chinese ships were cutting exploration cables sparked anti-China protests in Vietnam.
The South China Sea, thought to be rich in oil and natural gas reserves, has been a source of maritime conflict between several countries.
Along with China and Vietnam, islands in the area are also claimed by the the Philippines, Brunei, Malaysia and Taiwan.