Dozens saved after second Christmas Island sinking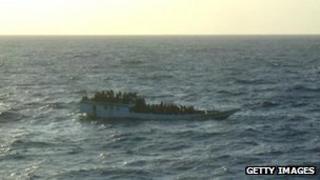 At least 125 people have been rescued after a boat sank north of Christmas Island, a week after an asylum-seeker boat sank in the area.
Australian officials said merchant vessels had gathered survivors from the water after the boat sent a distress call early on Wednesday. One body had also been recovered.
Estimates put 150 people on board, including women and children.
Two Australian navy vessels and an aircraft are now in the area.
In a report to parliament, Prime Minister Julia Gillard said that between 123 and 133 people were believed to have been on board.
But the Australian Maritime Safety Authority (AMSA) later released a statement with the revised figure.
It added that the boat capsized approximately 13 nautical miles (24km) east of Christmas Island, which is part of Australian territory. This is also where the other boat capsized on Thursday.
An image of the vessel, taken before it sank by one of the merchant vessels at the scene and released by the AMSA, showed people crowded on the deck of the boat.
Authorities temporarily called off the search as night fell, the ABC news agency reports, and will resume their efforts on Thursday.
Last week, a boat carrying asylum-seekers also sank off Christmas Island.
The boat was believed to have been carrying about 200 people. A total of 110 people were rescued and 17 bodies were found. The search for survivors was called off late on Saturday.
Policy deadlock
Christmas Island lies off Australia's north-west coast. It is closer to Indonesia than Australia, and is targeted by asylum-seekers hoping to get to Australia.
These boats are often overloaded and poorly maintained. About 50 asylum-seekers died when their boat broke up on rocks off Christmas Island in December 2010.
Last week's incident reignited a debate over Australia's asylum seeker policy deadlock.
The government has renewed a call for a refugee swap deal with Malaysia to deter people-smuggling.
Under the deal, Australia would have sent 800 asylum-seekers who arrived by boat on to Malaysia and would have received 4,000 refugees in return over four years.
However, the opposition is against the deal and is demanding that an immigration detention centre on Nauru be reopened.
The ruling Labor Party and the opposition Liberal Party have been locked in negotiations over the fate of asylum seekers arriving by boat for months.