India in new Sarabjit Singh death row release call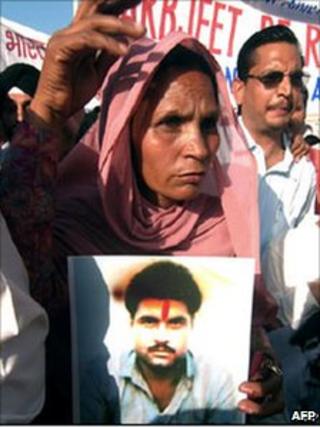 India's External Affairs Minister SM Krishna has welcomed Pakistan's decision to release Surjeet Singh and has made a fresh appeal for the release of death row prisoner Sarabjit Singh.
On Tuesday, Pakistan said Sarabjit Singh - on death row for more than 21 years - would be released.
The announcement sparked celebrations at Sarabjit Singh's home in India.
But hours later, Islamabad clarified that it was in fact freeing another Indian prisoner, Surjeet Singh.
Sarabjit Singh's upset family called the move a "cruel joke".
Singh, who is accused of spying and carrying out bomb attacks in Pakistan, has always denied the charges.
The length of his time in prison - much of it in solitary confinement - has meant that his case has received much coverage in the Indian and Pakistani press.
"I have seen media reports about the impending release from imprisonment in Pakistan of Surjeet Singh... I welcome this decision and further renew our request to the president of Pakistan to release Sarabjit Singh who has been in custody for over two decades. He is serving a death sentence," Mr Krishna said.
"India has consistently urged Pakistan on several occasions to take a sympathetic and humanitarian view on the case of Sarabjit Singh.
"I also appeal to the government of Pakistan to release all Indian nationals who have completed prison terms. I request the release of all Indians who are serving jail sentences in Pakistani prisons," he added.
Reports on Tuesday evening said the Pakistani law minister had ordered the release of Sarabjit Singh, who was sentenced for four bomb attacks that killed 14 people in Lahore and Faisalabad in 1990.
Pakistan's Dawn newspaper quoted Law Minister Farooq Naek as saying that Mr Singh's death sentence had been commuted to life imprisonment by President Zardari.
'Confusion'
But later Pakistani presidential spokesman Farhatullah Babbar told the Press Trust of India news agency that there was "some confusion".
"First, it is not a case of pardon. More importantly, it is not Sarabjit. It is Surjeet Singh. His death sentence was commuted in 1989 by President [Ghulam] Ishaq [Khan] on the advice of [former prime minister] Benazir Bhutto," Mr Babbar said.
Surjeet Singh has been imprisoned in Lahore for over 30 years on charges of espionage, reports say.
Pakistan's law minister had conveyed to the government that Surjeet Singh had completed his life term and ought to be released and sent back to India, Mr Babbar said.
"Keeping him in jail any longer will be illegal confinement," he added.
Meanwhile, campaigners including British lawyer Jas Uppal have criticised the Pakistani government for creating confusion over the release.
"I cannot believe the incompetence of the president of Pakistan's office. There is something that is not right - I am wondering whether they have done a U-turn?" she said.
"Surjeet Singh has spent the last 36 years in Kot Lakphat prison. He has served his sentence in full and should have been released sometime ago. His detention is unlawful," she added.
Pakistan and India frequently arrest each other's citizens, often accusing them of being spies after they have strayed across the land or maritime border.
On Wednesday, Pakistan released more than 300 Indian fishermen being held in a Karachi jail as a goodwill gesture.