Taliban attack Pakistan's Aaj TV station in Karachi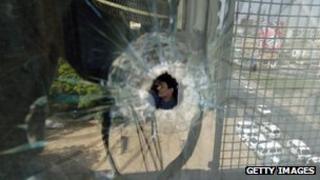 The Pakistani Taliban says it carried out the attack on Monday night on a private television station in the southern port city of Karachi.
Two people were injured when gunmen on motorbikes fired at Aaj headquarters.
A Taliban spokesman told the BBC it was a response to critical comments by Aaj about the militants and its failure to accommodate Taliban views.
Correspondents say this is the Taliban's first direct attack against a media group.
The Pakistani Taliban admitted killing a journalist in the volatile region of Mohmand in January.
Nevertheless, Pakistan ranks as one of the most dangerous countries in the world for journalists.
Witnesses say gunmen on motorbikes opened fire on the station' s offices in the busy Karachi neighbourhood of Gurumandir and then immediately fled the scene.
Both of those injured were reportedly employees of Aaj.
Aaj TV is a privately owned Urdu-language television station that covers national and international news.