China failing Burma refugees, rights group says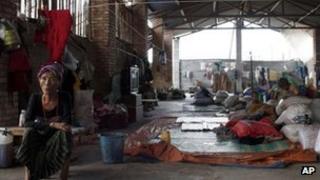 Campaign group Human Rights Watch has warned of a humanitarian crisis if China does not give aid agencies access to refugees fleeing conflict in northern Burma.
US-based HRW in a report said that as many as 10,000 Kachin refugees who had fled to China were short on supplies.
Some refugees had been refused entry or forced back to Burma, it said.
China is helping mediate peace talks between Burma's government and the Kachin rebels.
A ceasefire between the Burmese army and the Kachin Independence Army rebels broke down last year after a 17-year truce, and fighting is ongoing.
Estimates place the number of refugees from Kachin at 75,000, with the majority leaving for other parts of Burma and others fleeing across the border to China's Yunnan province.
Limited access
In its 68-page report, the New York-based HRW said Kachin refugees in China had limited access to food, shelter, sanitation and education for their children.
Major humanitarian organisations had also not been allowed access to the refugees, HRW said.
"The refugees are staying in makeshift accommodation like abandoned warehouses and in some cases, entire villages have moved," said Phil Robertson, deputy director of HRW's Asia division, at the launch of the report in Bangkok.
"They're facing a gauntlet of harassment and extortion by local officials," he added.
"The Chinese government has generally tolerated Kachin refugees staying in Yunnan, but now needs to meet its international legal obligations to ensure refugees are not returned and that their basic needs are met," Sophie Richardson, China director at Human Rights Watch, said in a statement.
"China has no legitimate reason to push them back to Burma or to leave them without food and shelter."
HRW based their report on more than 100 interviews with refugees and relief workers, among others.
It said that while China had generally allowed Kachin refugees to stay since June 2011, it has documented cases of Chinese authorities ordering the return of Kachin refugees to Burma.
"Chinese authorities have also rejected Kachin asylum seekers at the border, forcing their return to the conflict zone," the report says.