Japan's lower house passes sales tax bill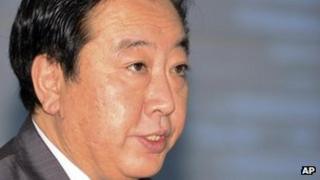 Japan's lower house of parliament has approved Prime Minister Yoshihiko Noda's controversial plan to double sales tax, but the vote laid bare a deep rift in the ruling party.
Japanese broadcaster NHK reported that 57 ruling party lawmakers failed to back the bill.
These included party founder Ichiro Ozawa, who has indicated he could form a new political party.
If others were to follow him, Mr Noda could be forced to call an election.
Mr Noda says doubling the tax from 5% to 10% by 2015 is key to cutting Japan's high public debt and funding rising welfare costs.
The two main opposition parties supported the bill. It must pass in the upper house to become law but is expected to do so because of the deal with the opposition.
Ahead of the vote, Mr Noda appealed for support. "This reform is not just for our generation, but for our future," he said in a final pitch to parliament.
Aging population
The controversial tax hike, which passed by 363 votes to 96, has seen bitter disagreement and gridlock amongst Japan's lawmakers.
The cabinet approved an outline of the bill in February but has been mired in negotiations since.
Mr Noda says raising sales tax - called consumption tax in Japan - is key to addressing Japan's financial woes and funding the needs of its aging population.
Japan estimates that 40% of its population will be of retirement age by 2060 - meaning the taxes of far fewer workers supporting far more retirees.
Several Japanese prime ministers have mooted the idea of raising sales tax in the past, but the move has proved deeply unpopular with voters.
Mr Ozawa, who has been leading the charge against Mr Noda over the tax hike, is a veteran politician leading the biggest faction within the DPJ.
He was cleared of charges in a long-running political funding scandal in April.
If 54 or more lawmakers were to follow Mr Ozawa out of the DPJ, Mr Noda would lose his majority in the lower house and could be forced to call early polls.