Japan sells first Fukushima seafood since nuclear crisis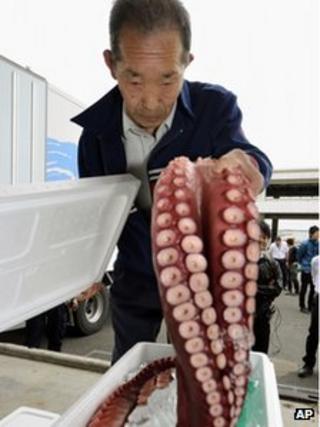 Seafood caught off the coast of Japan's Fukushima region has been put on sale for the first time since last year's nuclear crisis.
The sale was limited to octopus and marine snails, as other species cannot be sold yet because of contamination.
The catch was sold at reduced prices in markets across the prefecture.
The earthquake and tsunami devastated Japan's northeastern coastlines and caused a meltdown at the Fukushima nuclear facility.
Hirofumi Konno, an official in charge of sales at the fishing co-operative in Soma city, said many people had bought the produce to show their support for the industry.
"I was filled with both uncertainty and hope today, but I was so happy when I found out the local supermarket had sold out by 3pm," he told the Associated Press.
Fears over demand
Monday's shipment included octopus and whelk, a kind of marine snail, as testing showed they had no detectable amounts of radioactive substances, according to the prefectures' fishing co-operative.
Mr Konno said he hoped crabs could soon go on sale, as they had also passed the tests, according to AP news agency.
But it is unclear when flounder, sea bass and other types of fish will be approved for sale, as they have been found to contain measures of radioactive substances. Radioactive caesium, which has been found in some species, can last years.
Fish exports from Japan have been hit hard by the crisis, and some experts fear people will not buy Fukushima seafood.
"Fishing cannot survive unless people buy the fish. That may seem obvious, but Fukushima is facing up to this," Nobuyuki Yagi, a University of Tokyo professor, said earlier this month.
The trial sale is the latest attempt to bolster Japan's recovery since the March 2011 disaster, which killed thousands of people.
Earlier this month, Prime Minister Yoshihiko Noda announced that he had approved the restarting of two nuclear reactors, which he said was necessary to protect the economy.