Pakistan judge orders arrest of PM nominee Shahabuddin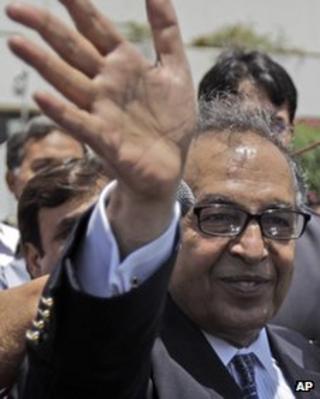 A judge in Pakistan has ordered the arrest of President Asif Ali Zardari's preferred candidate for prime minister, just a day after he was nominated.
Makhdoom Shahabuddin's arrest warrant is linked to imports of an illegal drug while he was health minister.
Parliament is due to vote on a new PM on Friday to replace Yousuf Raza Gilani. The Supreme Court disqualified him because of a contempt conviction.
It is not clear if the warrant will derail Mr Shahabuddin's nomination.
Legal experts say that even if he is arrested, he could still be elected prime minister by parliament, the BBC's M Ilyas Khan in Islamabad reports.
Mr Shahabuddin is a senior figure in the ruling Pakistan People's Party who served in the cabinet of Benazir Bhutto and was most recently textiles minister in Mr Gilani's administration.
The order for his arrest was issued by an anti-narcotics court judge in the northern city of Rawalpindi.
It is linked to allegations of illegal imports of the drug ephedrine while he was health minister.
Mr Shahabuddin is accused of violating restrictions on the import of the drug in 2010. He denies the charge, and says he in fact ordered an inquiry into the affair.
State TV said that another minister, Raja Pervez Ashraf, would be offered as a "covering" candidate in case the former textiles minister was rejected by MPs.
Three other candidates also filed their nomination papers on Thursday. One, Qamar Zaman Kaira, is also a PPP member. The other two are Jamiat-i-Ulema Islam (JUI-F) leader Maulana Fazlur Rehman and Sardar Mehtab Ahmed Khan Abbasi from the PML-N party of opposition leader Nawaz Sharif.
Feud with judiciary
The court's decision to disqualify Mr Gilani stunned Pakistan's government on Tuesday, two months after judges convicted the prime minister of contempt of court for failing to pursue corruption charges against the president.
In April, Mr Gilani was given a token sentence and avoided a jail term.
Even if Mr Shahabuddin does become prime minister, he is likely to face the same Supreme Court demand as Mr Gilani for the launch of a corruption inquiry into Mr Zardari.
The charges against President Zardari date back to the 1990s when his late wife Benazir Bhutto was prime minister. They were accused of using Swiss bank accounts to launder bribe money.
President Zardari has always insisted the charges against him are politically motivated.
Mr Gilani's removal as prime minister is being seen as part of a long-running and bitter feud between the government and judiciary.