Bangladesh garment factories reopen after protests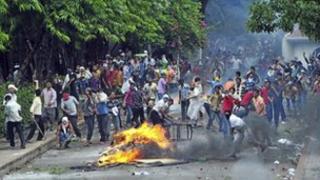 More than 300 clothing factories in Bangladesh have re-opened after several days of violent protests by workers over salaries.
Tens of thousands of workers vandalised plants and clashed with the police, demanding better pay and conditions.
Garment workers last got a pay rise two years ago but union leaders say pay has not kept pace with inflation.
Factories reopened after the government assured the owners that it would provide security.
On Thursday, thousands of workers returned to work in the vast industrial suburb of Ashulia, near Dhaka.
About 500,000 people work in the Ashulia industrial zone, making clothes for companies such as Tesco and Walmart.
The BBC's Anbarasan Ethirajan says the garment industry is key to the Bangladeshi economy.
Last year, garments accounted for about 80% of Bangladesh's export earnings - it earned about $18bn (£11bn) from exports.
But many workers say their wages are not enough to live on, our correspondent reports.
Two years ago, the minimum wage was nearly doubled after months of violent protests, from 1,662 taka to 3,000 taka ($20-$36/£13-£23) a month.
Employees, who work 10 to 16 hours a day, six days a week, are now demanding a 50% pay increase.
But factory owners argue that their business is already suffering because of the crisis in the eurozone and any further increase in wages will force many plants to shut down.