Suu Kyi 'comes home' to BBC Burmese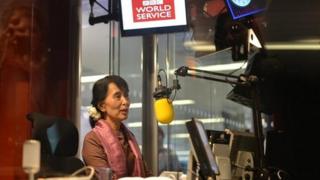 On her first visit to the UK in 24 years, Burmese opposition leader Aung San Suu Kyi visited the BBC World Service, a crucial link to the outside world during her long detention. BBC Burmese editor Tin Htar Swe describes an unforgettable experience.
It was a real honour to receive Aung San Suu Kyi as she visited the World Service and held a private audience with the Burmese Service.
I couldn't sleep last night because I was so excited. I was worried that she might not turn up, that she might be ill.
But on the day what was really striking was that she was genuinely pleased to see us here.
She spoke about how she listened to the World Service during her many years of detention. It was her link to the outside world, it kept her informed and she relied on the knowledge it provided.
She even had some suggestions about programming and was very specific about too many hours spent on news and current affairs - something she repeated in her private meeting with the Burmese Service.
She told us that this visit to the World Service felt like coming home. We never could have imagined that we would see her in our midst in our broadcasting headquarters here in London.
'Funny and informal'
And as it is her 67th birthday today, one of my colleagues in the Burmese service bought a cake for her. She loved the cake and said that you didn't get candles like that in Burma. She even took a slice of it with her when she was taken to the studio for the interview.
She looked beautiful and she was serene, funny and very warm and informal.
But as I am a journalist I also wanted to ask some tough questions.
There was not much time and it was important to balance our appreciation and imbue the meeting with a personal touch as well as ask her the important questions. We asked her about her first impression of London and she was surprised to find London so clean, unlike 20 years ago.
She was slightly evasive when asked whether the suspension of Western sanctions against the Burmese government had affected her political leverage.
During the interview she looked me in the eyes and said: "The World Service is just like a family to me. Coming here and meeting you all is like coming back to a family [home]."
She reminded me of the story of a legendary Burmese princess. The princess lights up her palace halls whenever she makes her entrance. Aung San Suu Kyi makes the people smile and everyone in new Broadcasting House was smiling as she came in today. It was something I had never seen before, a truly unforgettable experience.
I met her once before, many years ago, when she came to my parents' house in Rangoon.
Some of my other colleagues had never met her and they were overwhelmed. Over the years of reporting, they have noticed the little things about her - how she always likes to wear flowers, especially roses. So they bought her some red roses.
We also thought a lot about what to give her and wanted to give her something very special from the BBC Burmese Service.
Just before she left the room I handed her the gift and asked her to open it back at her hotel in a private moment.
What we gave her was an interview the World Service did with her late husband, Dr Michael Aris, while she was in detention in the early 1990s. In that interview he spoke about how little he heard about her and how he was very worried for her.
We hope the late Dr Aris's calm and measured tone expressing his concerns about her will give her strength and it is something she will treasure and cherish.
It also reflects what the World Service stands for.