Popular Pakistani singer Ghazala Javed killed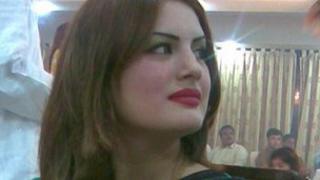 Popular Pakistani singer Ghazala Javed has been shot dead in the north-western city of Peshawar.
Ms Javed was killed along with her father late on Monday, but there are differing accounts of what happened.
Police say the murders may be linked to a family dispute.
Ms Javed, who sang in her native Pashto, was from Pakistan's Swat valley, which she fled three years ago during a military offensive against Taliban militants in the region.
Singers and dancers were particularly targeted by insurgents when they overran the area in 2007.
Ms Javed's sister says that armed men broke into the singer's house and killed her and their father.
But other accounts say they were killed when gunmen on a motorcycle opened fire on the street.
Born into a family of musicians, Ghazala Javed was popular across Pakistan, Afghanistan and among Pashto-speaking communities around the world.
While Swat was dominated by the Taliban and then subject to a military offensive, she often sang about peace. At one point, she was forced to stop singing after receiving threats.
In 2010 the singer, who was in her mid-twenties, married a businessman but it is thought they later divorced.
Correspondents say her music fused eastern and western traditions.
Tributes from her fans have been pouring into social media sites.