Australia warns magnate Gina Rinehart on Fairfax Media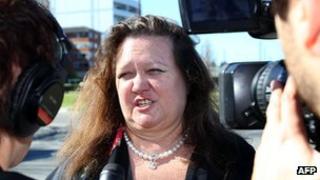 Australian officials have expressed concern that billionaire Gina Rinehart's increased stake in Fairfax Media may compromise its independence.
The mining magnate, who now has an 18.67% stake, has asked for three board seats and the right to make editorial decisions, Fairfax newspapers report.
Acting Prime Minister Wayne Swan says this may have "very big implications for our democracy".
Fairfax has said it is cutting 1,900 jobs over three years to save on cost.
Ms Rinehart, who enlarged her stake in the company from 12.58% last week, is now Faifax's largest investor.
Aside from the three board seats, Ms Rinehart also wants to be able to hire and fire editors, Fairfax newspapers report. Fairfax journalists have written to her asking her to respect the company's editorial independence policy.
Ms Rinehart, who oversees an iron-ore prospecting empire, is a vocal opponent of the government's mining and carbon tax plans.
Both Mr Swan and Communications Minister Stephen Conroy urged Ms Rinehart to respect Fairfax's charter and editorial independence.
"If she was to directly interfere and breach that charter, it would actually lead to a crisis of confidence among the readership and if the readership deserted, then the share price for every shareholder would decline," Mr Conroy said.
Mr Swan said: "I think that has very big implications for our democracy, I think we should all be very concerned at this turn of events."
"She certainly has a commercial right to do what she has done, but it appears to be that she will go a step further, not respect the charter of independence, and reserve her right to direct journalists with instructions that follow her commercial imperatives."
Fairfax, one of Australia's biggest media companies, announced major changes on Monday as part of cost-cutting measures to save A$235m ($237m, £151m) annually by mid-2015.
Aside from the job cuts, two printing facilities in Sydney and Melbourne are to be closed by 2014.
The Age and The Sydney Morning Herald broadsheets are also going tabloid, with its websites adopting pay walls from 2013.