Bus carrying Shias is bombed in Pakistan's Quetta city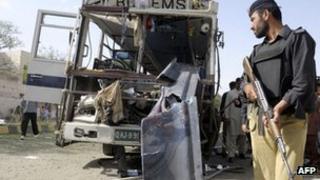 At least four students were killed and many injured by a bomb blast which hit a university bus in the Pakistani province of Balochistan, officials say.
Police say the bomb was planted on a vehicle parked in a suburb of the provincial capital, Quetta.
Passengers on the bus were mostly from the minority Shia Hazara community.
Balochistan has seen growing attacks - widely blamed on Sunni militants - on the Hazara community over the last year.
Officials say that bus was travelling to the Balochistan University of Information Technology when the bomb went off.
The volatile Balochistan region is one of Pakistan's most strategically important areas - sharing borders with Afghanistan and Iran.
It is also home to various different ethnic groups including the million-strong ethnic Hazara community - mainly migrants from Afghanistan.
Quetta is also located on the main route of Shia pilgrims going to Iran - which remains the spiritual headquarters for Islam's Shia community.
While Balochistan has often been hit by sectarian violence, ethnic Baloch separatists have long demanded more autonomy and a greater share of Balochistan's natural resources.
Afghan and Western officials have also in the past said parts of the Taliban leadership are based in Quetta - a claim Pakistan denies.
But Taliban militants have also launched attacks in the province in recent years.
Earlier in June, at least 15 people died after a bomb attack on a religious school in Quetta.