Australia's Fairfax cuts jobs and changes newspapers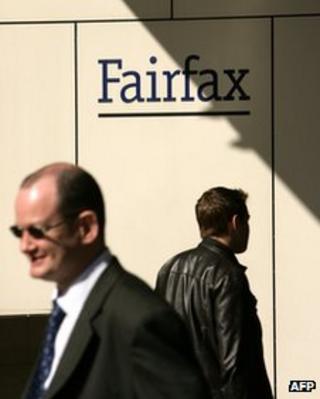 Australia's Fairfax Media will shed 1,900 jobs over three years and give two high-profile broadsheets a new "compact" format, it has announced.
Websites of the two newspapers, The Age and The Sydney Morning Herald, will also introduce pay walls from 2013.
Two printing facilities in Sydney and Melbourne are also to be closed by 2014 as part of the cost-cutting measures.
Fairfax said it was taking "decisive actions to fundamentally change the way we do business".
"No one should be in any doubt that we are operating in very challenging times," said Fairfax Chief Executive Greg Hywood.
"Readers' behaviours have changed and will not change back."
The moves are expected to save Fairfax A$235m ($237m, £151m) annually by mid-2015, the company said.
It said editorial standards and content at the two newspapers would not change despite the new format.
Cuts are also expected at Fairfax's biggest rival, Rupert Murdoch-owned News Ltd, Australian media reports say.
The two companies together dominate Australia's newspaper market.