Japan PM Noda orders nuclear reactors back online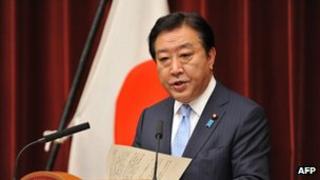 Japan has announced that it will restart two nuclear reactors - the first to go back online since all the country's plants were closed following last year's Fukushima crisis.
Reactors at the Ohi plant in central Fukui prefecture will be switched on in three weeks, officials said.
Prime Minister Yoshihiko Noda has urged support for the move, saying Japan faces a summer of power shortages.
But widespread public opposition to nuclear power remains.
Japan's 50 reactors were shut down for routine maintenance after the meltdown at the Fukushima power plant, which was triggered by a massive earthquake and tsunami.
'Stabilise livelihoods'
Prime Minister Noda made the announcement after meeting the governor of Fukui prefecture, Kazumasa Nishikawa, who gave his approval for the decision.
The prime minister then held talks with the minister of economy, the minister in charge of the nuclear accident and the chief cabinet secretary, before making the announcement.
"Now that we have the approval from the autonomous body where the reactors are relocated, the four ministers concerned made the decision to restart the reactors," Mr Noda said, according to AFP news agency citing local media.
Mr Nishikawa told reporters the agreement was reached to "help stabilise livelihoods and industry".
He said he had given his approval because he had been "assured of the government's safety efforts".
But Mr Noda still faces stiff opposition from lawmakers and the public, says the BBC's Mariko Oi in Osaka.
According to the latest poll by Jiji news agency, 46% of the public is still against the move to restart the reactors in Fukui, she says.
Nuclear power used to provide one third of Japan's electricity.
The government has asked households and businesses in parts of the country to cut electricity usage by 15% to avoid possible blackouts.