Burma unrest: Rakhine violence 'displaces 30,000'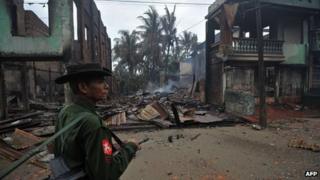 Tens of thousands of people have been displaced by violent clashes between Buddhists and Muslims in Burma's north-western Rakhine state, officials say.
Htein Lin, security and border affairs minister for Rakhine, said 29 people - 16 Muslim and 13 Buddhists - have been killed since riots broke out on Friday.
Some 2,500 homes have also been burned down in the violence.
Burmese opposition leader Aung San Suu Kyi warned that the strife would continue without "the rule of law".
Speaking in Geneva on her first trip to Europe since 1988, she said the situation should be handled "with delicacy and sensitivity".
The situation is calmer now in Rakhine than in recent days, although several houses were reportedly burned down on Wednesday.
UN envoy to Burma Vijay Nambiar visited the area and said the army had restored order, but the situation remains tense.
Lack of trust
The violence flared after the murder of a Buddhist woman last month, followed by an attack on a bus carrying Muslims which killed 10 people.
According to reports, rioting began on Friday in the town of Maung Daw, spreading to state capital Sittwe and neighbouring villages. President Thein Sein declared a state of emergency there late on Sunday night.
Speaking at a news conference in Sittwe on Thursday, local official Htein Lin said more than 30,000 people - both Buddhist and Muslim - were being housed in 37 camps across the Rakhine.
"Everyone has a duty to prevent this happening again... but it's very difficult to talk about peace when both sides don't really trust each other," he said.
The unrest has led to Muslim refugees from the Rohingya minority trying to enter Bangladesh by boat, but they have been turned away by coast guards and border security.
Reports on the number of Rohingya refugees fleeing to neighbouring Bangladesh vary, but as many as 1,500 are said to have been turned back in recent days.
Rakhine state is named after the ethnic Rakhine Buddhist majority, but also has a sizeable Muslim population, including the Rohingyas who are not considered to be Burmese citizens by the state.
Activists have criticised Burma's government for imposing a state of emergency, which paves the way for troops to take control of the western state.
The pressure group Human Rights Watch has accused the Burmese government of, in effect, handing over control of Rakhine state to the military, which it says has a history of brutality against both Buddhists and Muslims.