China's diplomatic snubs to UK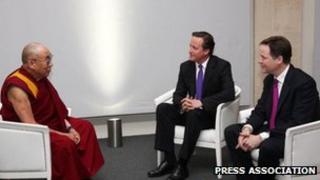 China has put relations with the United Kingdom into, if not the diplomatic deep-freeze, then at least the ice-box.
This sudden chill is, according to China's government, entirely the fault of the British side.
For several weeks, China has been cancelling high-level meetings. We already knew that Wu Bangguo, who ranks second behind President Hu Jintao, called off a trip to London in mid-May.
Now it's clear several British ministers who visited Beijing recently have received diplomatic snubs.
When Lord Greene, the UK's trade and investment minister, attended a UK-China Partnership Summit in May, China's ministry of commerce sent an assistant minister to address the gathering. The assistant minister then left the room as soon as he'd given his speech.
When Foreign Office Minister Jeremy Browne visited Beijing, he didn't get to meet anyone from China's ministry of foreign affairs.
What is not clear is whether this is going to be a long, drawn-out diplomatic chill or a passing phase.
Contentious meeting
The immediate issue is the Dalai Lama and David Cameron's decision to meet the Dalai Lama when he was in London for a prize-giving ceremony in London in May.
China's reaction is summed up by an article in today's China Daily headlined "UK to blame for damaged relations with China".
It quotes China's foreign ministry spokesman Liu Weimin as saying: "In disregard of China's strong opposition, British leaders pressed ahead with meeting with the Dalai Lama.
"The Chinese side expressed strong dissatisfaction and opposition. Bilateral relations were affected."
China clearly believes it has been wronged. "The responsibility lies with the British side," according to Mr Liu.
"We demand the British side... stop supporting Tibet independence anti-China forces, and take immediate measures to restore China-UK relations with concrete actions," he said.
Core principles
British diplomats knew China would be angered. Their hope was that dealing openly with Beijing would minimise the impact.
So officials informed China in advance, they made clear David Cameron's meeting would be a private one, and made sure it did not take place on government property.
Some might view those actions as prudent, others as appeasement.
But Britain does not appear to be suffering the same sort of total freeze that China has imposed on Norwegian officials since the Nobel committee awarded its 2009 Peace Prize to the imprisoned Chinese academic Liu Xiaobo for advocating an end to Communist Party rule in China.
China's Communist leaders regularly vilify the Dalai Lama. He has called for autonomy for Tibetans, not independence.
But China has made the issue of Tibet a "core principle", one it will not compromise over.
So China's leaders feel they must talk tough over this issue.
For audiences at home they want to reinforce the message that they are building a strong, proud China that will not be pushed around by foreign powers.
For audiences abroad it's about deterrence, warning other leaders not to meet the Dalai Lama - or they may suffer similar retribution.
Losing friends?
But there is a downside. By being so strident China may influence people but it may not win friends and it risks damaging its image as a rising power.
And the Communist Party depends for its legitimacy on delivering not just renewed national pride but also rising prosperity.
So China has growing economic and diplomatic interests around the world that it does not want to see damaged either.
China's sovereign wealth fund is looking to make more investments in the UK in infrastructure and utilities. China wants to diversify its foreign exchange holdings away from the US dollar.
The British pound is an obvious alternative, particularly given the euro's troubles. China has started making London a major offshore centre for trading its currency, the renminbi.
British officials say that the UK is more open than most to Chinese investments. There is little political opposition to Chinese firms buying UK airports, water firms or bus companies as long as they invest in them and make them profitable.
So, the argument goes, treating a friendly nation could backfire badly if China's actions stir up hostility in the UK.
And China is apparently keeping open channels of communication to ensure its practical interests are not damaged.
Beijing still has to deal with Britain in international arenas - at the G20 tackling global economic troubles, in the P5+1 dealing with Iran's nuclear programme and over Afghanistan.
Just as China's growing global reach gives it new leverage it can constrain it too.