Burma's Suu Kyi embarks on landmark Europe trip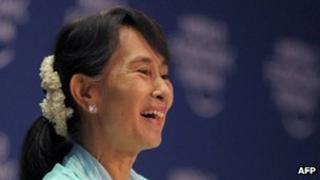 Pro-democracy leader Aung San Suu Kyi has left Burma for her first trip to Europe since 1988, in what is seen as another milestone for the country's political progress.
During a trip lasting over two weeks, she will visit the UK, Switzerland, Ireland, France and Norway, where she will accept her 1991 Nobel Peace Prize.
Ms Suu Kyi has spent much of the past 24 years under house arrest in Burma.
This is her second recent overseas trip after visiting Thailand in May.
She told reporters before she left Burma that she expects the trip to Europe to be eye-opening.
"Each country will be different. I will know how backward [Burma] is when I reach the other countries," she said.
She also added that she "would like to do my best for the interests of the people".
Ms Suu Kyi has spent much of the past two decades under house arrest as a political prisoner. But amid a process of reform in Burma, she was freed in late 2010 and won a seat in parliament in the recent by-elections.
Her decision to travel is being seen as a sign of her confidence in the government of President Thein Sein, who brought in reforms after he came to power last year in Burma's first elections in 20 years.
She was visiting Burma in 1988 to look after her sick mother when protests broke out and has not left the country until recently.
She had always feared she would not be able to return to Burma if she left.